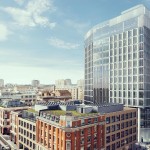 White Collar Factory, Old Street, London
Develop design concept for a radical new office format building. By adopting Smart IT to reduce cooling requirements, coupled with passive design using exposed activated thermal mass and optimised windows, the design dematerialises the built form and its systems, and achieves 'A' energy label. The concept and ideas have now been built out into a re-constructed full scale whole floor prototype. Having shown its suitability for retrofit insertion the same design approach is being used for the adjacent 24,000m2 new-build office tower.
Collaborators: Derwent London, AHMM architects.
Image ©Derwent London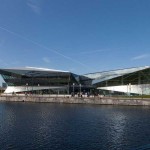 Siemens Urban Sustainability Centre, Docklands, London
Designed and certified as the highest grades of BREEAM 'Outstanding' and LEED 'Platinum'. Expert technical advisor for public exhibition and design objectives. Specialist sustainability consultancy review and advice on strategic public messages for exhibition, worldwide case-studies selection, examples of best practice legislation and policy.
Image ©Siemens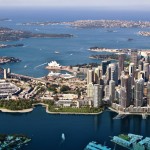 Barangaroo Development, Sydney
Waterfront CBD regeneration project to deliver 500,000m² mixed use, carbon-neutral, water positive, high density urban new-build.  ESD concept with supporting masterplan formed basis of developers' winning bid for complete site.
Collaborators: Rogers Stirk Harbour + Partners, Lend Lease
Image ©Rogers Stirk Harbour + Partners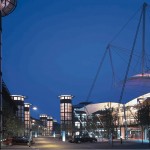 Inland Revenue Centre, Nottingham
Concept and implementation design for the first office building to achieve maximum BREEAM rating. 40,000m2 of accommodation harnessing natural ventilation with 100% passive cooling and stack ventilation extract. Completed building was 1996 Green Building of the Year finalist.
Collaborators: Hopkins Architects
Image ©Hopkins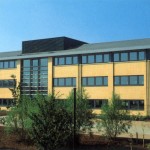 Noble House, Linford Wood, Milton Keynes
BREEAM 'Excellent' rated low-energy speculative office buildings (5100m²). Trailblazer project using the newly introduced (in 1991) world's first building design environmental assessment system. Project mechanical engineer.
Collaborators: EDC architects.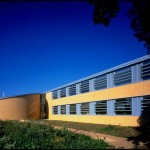 National Energy Foundation Headquarters, Knowlhill, Milton Keynes
Office building taking advantage of exposed thermal mass 100% passive cooling and natural ventilation as an exemplar cost effective low energy use HQ building. Project engineer and lead designer.
Collaborators: Weston Williamson + Partners architects
Image ©Arup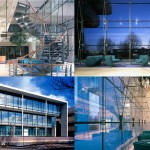 Slough Estates Headquarters Building
A low energy new office building extension to the estate awarded BREEAM 'Excellent' environmental rating. Design used new introduced active chilled beams coupled to heat recovery air cooled chillers. Project mechanical engineer.
Collaborators: Michael Aukett Architects
Image ©Michael Aukett Architects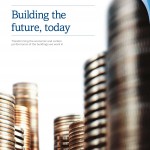 UK Non-Domestic Buildings Carbon Trajectory to 2050
Carbon Trust research project for UK Government to inform future policy direction. Set out an objective fact based long term vision for the non-domestic buildings sector, describing what the low building stock would look like, the actions needed to get there and associated financial modelling.