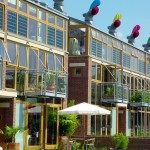 Beddington Zero Energy Development (BedZED), UK
Mixed-use sustainability development of 85 homes.  Designed to be zero fossil energy using advanced low energy building design with carbon-neutral biomass CHP pre-production demonstrator. Super-insulated, airtight and high thermal inertia zero-heating concept. Extensive water and materials recycling. Photovoltaic solar power generation for electric cars. Concept, design and implementation for buildings services, building physics and energy systems. Design concept, development and testing of wind powered heat recovery ventilation cowls. Collaborators: Zedfactory Architects, BioRegional Developments, Peabody Trust.
Samsung Zero Energy House, Seoul  
Carbon neutral demonstration building with on-site energy autonomy & 80% water use reduction as part of the first LEED® Platinum certified project in East Asia. Responsible for the concept design, overseeing the detailed design and implementation checking.
Image ©Samsung Construction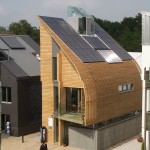 Kingspan Zero Carbon Lighthouse, UK
First completed building to achieve Level 6 of the UK's new Code for Sustainable Homes. Developed the concept working closely with the architect and the supply change. Designed for off-site manufacture and end-of-life disassembly. Scope included the concept and detailed design as well as site implementation technical assistance. Worked with BRE using project feedback to refine the Code prior to its public launch.
Collaborator: Sheppard Robson Architects, Building Research Establishment.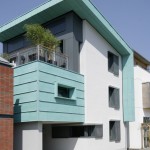 Barratt Greenhouse
Concept and design for the first constructed prototype zero carbon home for a mass housing developer to achieve the top level 6 compliance with the then new Code for Sustainable Homes. Design based on high thermal mass prefabricated construction to provide temperature stability for future climate change impacts.   
Collaborator: Gaunt Francis Architects.
Image ©Peter White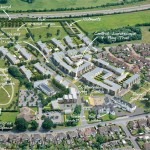 Hanham Hall Carbon Challenge, Bristol, UK 
Working for national house builder Barratt on the design of the first English Partnership Zero Carbon Challenge development. Team worked closely with the architect to develop design variants to deliver Code for Sustainable House rating. Responsible for energy systems concept design and sustainability assessment. Constructed pathfinder project to meet the expected definition of zero carbon required of all English new homes from 2010. Collaborators: HTA Architects. Barrett Homes
Image ©HTA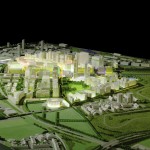 Stratford City & 2012 Olympic Village, London
1,200,000 m2 mixed-used development with 300 unit retail centre constructed on reclaimed polluted industrial site. Development of sustainability strategy, including pathway to 80% carbon reductions and community wide energy systems together with associated planning application offer. Development and implementation monitoring of Design Coding for the control rollout.
Image ©Arup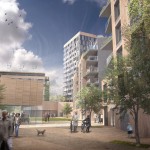 Gallions Park
Winning concept design for developer bid zero carbon development of 260 homes in London Docklands.
Collaborators FCBStudio Architects, Southern Housing, Crest Nicholson
Image ©FCBStudio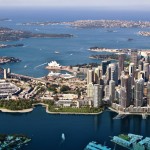 Barangaroo Development, Sydney
Waterfront CBD regeneration project to deliver 500,000m² mixed use, carbon-neutral, water positive, high density urban new-build.  ESD concept with supporting masterplan formed basis of developers' winning bid for complete site.
Collaborators: Rogers Stirk Harbour + Partners, Lend Lease
Image ©Rogers Stirk Harbour + Partners